A Vegetarian's Food guide to Bali - Apt for Indians
The beautiful tropical landscape and the highly Instagrammable nature of the island tempted me to take a trip to Bali in the Summer of 2018. I am a non-vegetarian, but I often get asked, if the country has options for vegetarians. I learned a few things about the food there, which I am sure can help a lot of first timers visiting the island of the Gods, Bali, especially if you are a vegetarian. You would be surprised just how many options are available. So, here's a 'Vegetarian's guide to enjoying Bali' -
Choice of food:
Fruits - Who thought Fruits were just good for a snack or shame diet?! Bali is blessed with some of the most delicious tropical fruits, my personal favorite being the Dragon fruit (Pitaya), which makes for an affordable yet healthy breakfast. The experience is elevated if you can take an early morning walk to the nearest farmer's market like the one I found in Ubud called the Ubud Traditional Art Market. The market starts wrapping by 6.30-7 AM, so be sure to reach early if you plan to try out some of the juiciest fresh fruits. Purple Mangosteen and Durian are some indigenous fruits you should definitely try. Most fruits are available within the range Rupiah 10-50K/kg. Also, if you aren't an early riser, you can visit the local 24/7 Coco mart outlets, they have fruit - fresh and cut.
Fresh cut at the morning market
Coconut - It is a staple diet which deserves a separate mention because you would find it almost everywhere, be it tourist spots or at shops on the street. These coconuts are giant with over a litre coco-water and need to be served on a plate cause of the size, which also means, one is enough to complete a meal. Prices may vary from Rupiah 10K to 25K, depending upon where you are and how well you can bargain.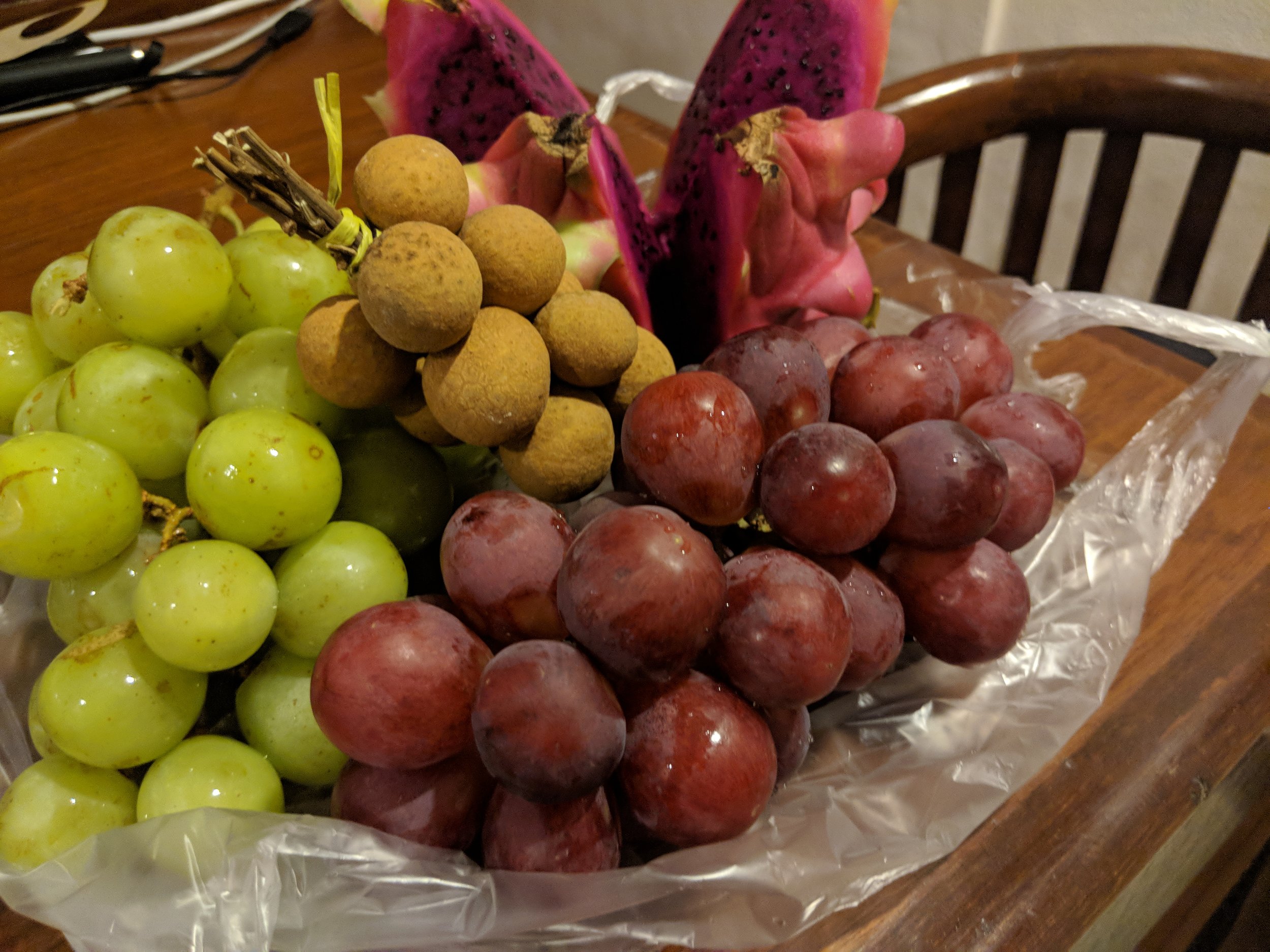 Indian Food - Yes, you read it right! You have Indian restaurants where you can find food from Kashmir to Kanyakumari. Some of these restaurants like say Queen of India, where I had the chance of eating had one of the best palak paneer I have had in my life, the taste and aroma of the herbs instantly reminded me of home. I think it also had seaweed which made it more nutritious, perks of being on a tropical island. You would find most Touristy locales of Bali would have such restaurants. But other islands near Bali like Nusa Penida, might not. So in that case, refer the next point!
Custom food - Customization can go a long way but make sure, you know what you are doing. Some combinations work, while others, not so much. If the cook is willing, you can take almost any dish and make it vegetarian. I stumbled upon this warung (small restaurant) serving Fish Curry which also served a Hawaiian Pizza, I talked to the chef and he agreed to cook vegetables in the coconut-based curry without the fish, the result was heavenly, to my utter delight. So, keep experimenting!
Italian, Lebanese, Eastern Cuisine - Perks of being a tourist hub, Bali has food from almost all over the world. It is easy to find places serving a mean pasta or a pizza where you can always customize the toppings. I am from the minority that loves a pineapple on top and a Hawaiian pizza didn't disappoint. If you don't like it cheesy, don't fal-afel! :D You can also easily find places who can serve a mean vegetable noodles in the stew. One pro tip - If ordering any dish with dry noodles or rice, make sure you specify you don't eat eggs or you might end up with a sunny side sitting on top of your dish. :)
creamy and delicious Ice Cream from GoPut Sanur Beach
Deserts, smoothies, popsicle - Saving the best for last, irrespective, if you have a sweet tooth or not, you can find a wide range of deserts and healthy smoothies on all menus, wherever you go. I tried a few smoothies, they were absolutely mouthwatering but nothing beats the tender coconut popsicle, it was icy but I was in love.
Average cost per meal
The average cost for a meal could range from Rupiah (IDR) 20K to 400K depending on where you choose to eat. A roadside restaurant is called a warung. It mostly has non-vegetarian food but you can ask if they can cook you vegetable in curry. The cost of a meal almost depends a lot on what are you having - fruits, pizza or a complete Indian meal. On an average, I would say Rupiah (IDR) 200K is a good enough estimate for a meal for two.
Recommendations
I have listed below some of the most highly recommended places with vegetarian dishes to try -
DepotGoput at Sanur beach - This is an ice-cream parlour that serves traditional ice cream, tropical fruits coconut based. Believe me when I say this, I don't usually like ice creams, but here I fell in love with their offerings. Try their "Es Goyang - Tender Coconut" (Meaning Tender Coconut Popsicle), perfectly delicious and apt for the tropical weather. It is DELICIOUS. If you are in the vicinity, you can't go without trying these heavenly popsicles.
Habitat Cafe, Ubud - I absolutely loved their delicious Pad Thai noodles. These are flat noodles with peanuts and cooked in tamarind paste. Absolutely mouth watering! They also had some mean smoothie bowls. But for the best, check the next option
Yellow Flower, Ubud - Smoothie bowl and feta avocado toast
Dimsum Corner, Ubud (near Tegenungan waterfalls) - Khaowsuey
Kynd Community - I haven't been hear, but heard some pretty good this about this vegan outlet that serves food. Also has the most instagrammable decor. Check them out on instagram here.
Potato Head and Rock Bar, Seminyak are other popular places where you can find good food with a breathtaking view. These are some of the most highly recommended places, although you may need prior reservations and some deep pockets (if only for one night :P )
Delivery options
Most restaurants deliver via the gojek app, which means if you are feeling lazy, you can even order food in the hotel room from the comfort of your bed. Most restaurants and delivery services in places like Ubud close around 10 PM, so best to order latest by 8.30 PM.
Ready-to-eat
Just in case, you can't live without your daily dose of rich Indian food like Poha, Dal, Paneer and the likes and you aren't adventurous with food either, I would recommend carrying Ready-To-Eat (RTE) packets. To cook these you just need to add hot water and you have yourself a scrumptious meal. Here are a few examples -
Do you have any more suggestions for others or something you would like to add? Let me know in the comments below. :)